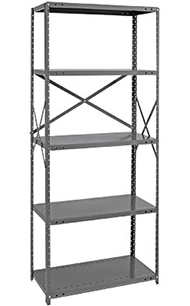 Steel Shelving
The constant need for increased storage drives some companies to expand their facilities to multiple warehouse locations, resulting in excessive operations costs per square foot of storage.
Installing cost effective steel shelving storage solutions.
HD SHELVING can build a complete double deck steel shelving unit with a grated catwalk between aisles, enables companies to move up, not out. By utilizing available vertical space, storage areas can be significantly condensed while containing operation costs.
We carry both Open and Closed Steel Shelving