Boltless Shelving is the preferred in the industry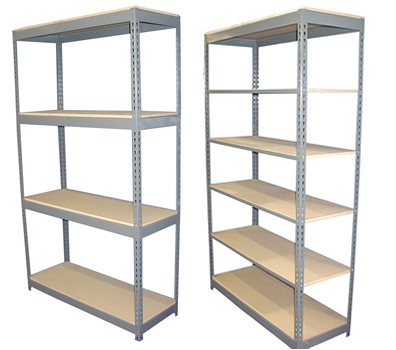 Boltless storage systems are designed to store bulk and odd shaped items. The Boltless shelving units can be designed to have uninterrupted spans of 96′ without the need for back or side sway braces. The Boltless Shelving units combine diverse storage capabilities and cost effective pricing.
We carry all sizes and widths of boltless shelving
Features
Versatile and efficient
Provides multiple shelf storage to maximize storage
Long span
Single rivet beams for maximum vertical space
various sizes from 12″ depth to 96″ width
Adjustable shelves
Boltless construction
Assembles in minutes
Boltless shelving assembles quickly and easily. Complete boltless connection, no bolts, screws or pins. No cross bracing is needed which provides access from all four sides of the unit. Available with with many shelf options; particleboard, melamine, wire mesh decking, metal shelves and fire retardant boards.
The strongest and most economical boltless system made
Boltless connection means quick and easy assembly. No small parts to misplace. We like to think of it as hassle-free.
Reduce installation costs by 30-40% over bolted shelving
Think Easy Access
No sway or cross bracing means you've got access from all four sides
Completely Freestanding
HD SHELVING Carries a wide variety of sizes, from starter units to Add-Ons regardless of your shelving configuration, HD Shelving has your solution.
Where can you use Boltless Shelving?
In the Office  as General Storage, Work Stations, File Storage or Record Archiving
In a distribution center or warehouse – Inventory control, Record Storage, Picking Operations and tire storage
In a Retail Store – Merchandising, Storefront displays, Mobile aisle storage, Backroom storage
In Manufacturing – JIT Work Centers, Packaging solutions, Uniform Storage, Multi-level Systems